Post by Luno on Jun 23, 2012 15:45:28 GMT -5
Abellio Kane McGrath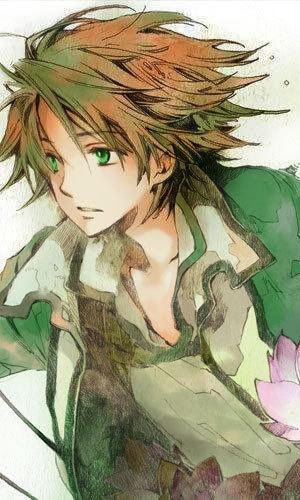 [Found this. Thought it was fitting.]
• Twenty-Two
• Male
• Trainer
Eye color: Light green

Hair color/style: Green, messy, tossed, unkempt
Physical Description:
Abellio is obviously a man of nature, as expressed by his appearance. His green hair is messy and not kept neat or tidy. His skin is not free from spots of dirt or some cuts and scratches here and there. Clearly a wandering man, Abellio wears cargo pants with plentyof room in its many pockets for storage of berries or other items that he may choose to carry around (such as poke balls). Also for storage is the white fanny pack he wears around his waist. Unaware of how unfashionable such an accessory may or may not be, Abellio fids this pack to be of great use in his journies. Over his torso, Abellio wears a green collared short-sleeve shirt, which not only matches his har and eyes, but also the bands he wears around his wrists.
Abellio is of pretty average height for his age and gender, but maybe slightly on the taller edge. Because of all of his wandering around, he is very in-shape- all that climbing and walking and swimming and such. However, because he doesn't eat very much, his frame is thin and lean, rather then boastfully strong. Abellio is one of speed, rather than power.
Personality:
Abellio is extremely friendly. Eager to meet new people and create new companionships, he has no problem stiking up a conversation with someone he has never even met before. This is also due to him being quite extroverted. Blissfully unaware of what it means to be shy, Abellio also has a hard time understanding how other people can be shy and my not pick up on the hints that they would rather not be having a conversation at the moment. This is not to say that he is naive, but merely unable to gain certain perspectives that introvertd or easily annoyed people might have.
Abellio is also very gentle. As he travels around, he does not enjoy picking fights or starting conflict along his way. He will often help injured people or pokemon that he meets and has a fondness or doing such things. This is why he likes to pick berries and keep them in his pockets- just in case. Pokemon battles, however, are not seen as conflict in his eyes as they are n greement between both parties to partake in the battle. Therefore, this is seen as a sport rather than an actual fight. Like all good trainers, Abellio would not force his pokemon to fight if they didn't want to.
As far as maturity is concerned, Abellio acts his age. He enjoys having fun and climbing trees an exploring, but it is done with the appropriate behavior that one would expect of an adult. Though Abellio may be a child in spirit, but he is not childish.
There is a special place in Abellio's heart for the natural world. He enjoys the beauty of the trees, waterfalls, hills, and tides. He takes great pleasure in basking in the wonder of the earth and how it could produce such magnificence. (It can then be correctly assumed that he has opposite feelings towards the industrial world.) Because of this, grass- and water-type pokemon are of particular interest to him, though he does not keep his companions as these types exclusively.

History:
Abellio was born and raised in Violet City, where he was brought up to respect all people and pokemon and taught to live in harmony with all creatures of the earth. From an early age, Abellio was encouraged to go out and play in the wilderness- something most parents have nightmares about. It was this type of freedom that allowed Abellio to grow up without any resentment towards authority as well as the priviledge of learning from his own mistakes- something that happened quite often. While at play, wild pokemon of gentle nature and weak power would happily join in, sensing the boy's innocence and good spirits.
Abellio wouldn't have any expeirence with conflict until school, where the other kids would start many issues with Abellio, as their development at home were of contrasting backgrounds. However, Violet City was still a peaceful one, so those conflicts were very simple and harmless. But it came as a shock to the boy nonetheless and put a bad tatse in his mouth for conflict.
Always, he would retreat to nature, were things were pure and free. As he grew up, he always had a curiosty for what else there was out there in the world. He knew there was more and his thirst to walk through it all only grew with age. Finally, at the age where most kids were off collecting their first pokemon and heading off t fame and fortune, Abellio just want to see the world. Disregarding all encouragments to just get a damn pokemon and be a trainer, Abellio grabbed some supplies and was off on his own.
Family:
Abellio's parents still live in Violet City in Johto with his little sister, who wasn't born until fter Abellio had left. It's difficult form him to make it home often to visit, as it would be a huge inconvience, so Abellio and his sister aren't as close as they would like to be. Extended family is found mostly in Johto as well, though he has a few cousins who have paved their way as successful trainers who are scattered all over creation.
Items:
Arco Bike
Pokemon:

♂ Servine - Jake
Arrogant & Snobby & Entilited
Overgrow ability
Battle Points: 6


♂ Beedrill- Spike
Determined & Loyal & Confident
Swarm ability
Battle Points: 2


♂ Buizel - Buddy
Playful & Mischievous & Energetic
Swift Swim ability
Battle Points: 2
Held Item: Focus Band



To be written


Sandile - [TBD]
Intimidate ability
Battle Points: 0


Tirtouga - [TBD]
Sturdy ability
Battle Points: 0


Blitzle - [TBD]
Lightningrod ability
Battle Points: 0
PC:
[empty]