Post by Golem Lord on Jun 9, 2013 1:10:42 GMT -5
Under Vast ReconstructionName:
Charlie Collins
Age:
16
Gender:
Male
Trainer Class:
Trainer
Physical Description:

Charlie is about six-foot-three in height. His body is very skinny, with a bit of muscle fleshing him out on his arms, legs, and chest area. His height has always allowed him to loom over those less blessed, also giving him an intimidating look, from the viewpoint of many below him (height-wise). His white hair is entirely natural, but is usually rugged, like the rest of him.
He holds a large scar that runs deep along the center of his chest from an incident. One of his eyes is white from blindness from the same source. Neither of these usually bug him too much.
Charlie general wears t-shirts and jeans of either black or white, also pertaining to gray at times. He won't always been seen with a sleeveless jacket, but he always has one for the day when the rain will pour. He makes a habit of never wearing things that aren't black, white, or in between, with an exception for red. He also never seems to wear anything with long sleeves, no matter what season it is.
Personality:
Charlie has always been someone who can generally be nice and gentleman-like, albeit, not always polite. He can be kind and compassionate, especially to people who he's forged some form of bond with. He doesn't really avoid anybody. If someone gets up in his face, or it is someone who he doesn't like, he'll turn aggressive and mean. He will protect people he cares about who he's forged bonds with, which is his highest priority.
He is a very social person. On a normal basis he will be glad to talk to people, and not be afraid to talk to a total stranger. He likes making friends, although, he knows sometimes that he has to make enemies. When that time comes, he's not afraid to do it, but he won't unless he deems it necessary.
He seems to be drawn to dark places and places untouched by time, such as ruins. He likes thinking of the past of other things, and how they came to be the way they are. He's always glad to find out more and share what he's figured out or thought of with others.
He's not always lurking in dark places though. He likes generally anywhere. He's loved the water since he was young, whether people are there are not. When people are there, he can enjoy his time with them. When he is by himself, he can do things on his own, or just wonder about what lies beneath the water then discover it.
History:
Charlie was born in the Hoenn city of Lilycover. He enjoyed off the shores where at times he could be entirely alone or be completely surrounded by people. As a young kid, he'd find things to do among the sand, whether he would do generic things, like builds castle or play with some of the other kids. When he would be by himself he'd look around the beach, staring out to the beautiful pristine waters, or find Pokémon like Shellder on the shore. If he found something like Shellder, he'd try to be friendly with it. If it was agreeable, he'd play with the Pokémon until it decided to leave. However, Shellders rarely came up on shore. He was never usually alone though.
The only people he was ever entirely close to was his family and one girl about his age that he met in town, Christine. They were the only ones who could understand him, that and the family pokémon: Oto the Whismur. This doesn't mean he didn't make good friends in the town, just none were as close as these few.
Charlie never pried too much into what his parents did. With all the thinking he did, he always thought he knew what they did. Mom stayed around the house, doing chores and different things. He knew that for sure.
However until that day, he was occupied with things that he normally did. Overtime he developed a kind of crush on Christine, but never had the guts to tell her. He was content with playing with her on most days. They would create their own adventures some days when there seemed to be nothing to do.
When Charlie turned nine, his Father out of the blue bought him a Pokédex and Pokétch with a sum of money that not even Charlie's mother knew where it came from. He didn't really question it though, he appreciated it greatly. The first Pokémon registered into the Pokédex was, of course, Whismur. He enjoyed his little gift and went around town scanning Pokémon into the entries of the Pokédex to see what would pop up. Oto chased after him, making sure he was still the most important pokémon to Charlie, which, of course, he was.
He ran up to Christine who was on the beach, sitting and staring out. Before he could say anything, she turned around with tears in her eyes.
C*~"What happened? Are you okay?"
Christine~"No... My family is moving away."
C~"Where are you going?"
Christine~"Some place named Anise City over in a region I've never even heard of - Kuhre."
Charlie didn't know what to say. All he could do is give her one last goodbye hug. It was sad to say goodbye to a long time friend - and a crush.
Charlie came home after that to find his father sitting at the table with his mother at his shoulder. Charlie walked up quietly, a little bit confused.
Father~"Hello Charlie."
C~"What's going on?"
Father~"I just wanted to tell you what's going on... My job is moving us over to Saffron City."
Charlie kind of sighed. Moving somewhere else? But he had grown attached to this area... even though someone was leaving.
Father~"...But if you want to go off on your own, you're nearly at the same age as any other trainer who has gone off on their own."
Charlie looked up kind of excited. A Pokémon trainer? Him? That would be great! He'd could travel wherever he wanted to go! His Father, recognizing his answer without a word handed him six Pokéballs.
Father~"I thought that would be your answer, so this is my gift to you. Don't be afraid to visit us over in Kanto though while you're wandering about, my little Trainer."
C~"Yeah! I'll make sure to Dad! Thank you so much!"
Charlie jumped on his father, giving him a huge hug. His journey began tomorrow morning. Till then, he rested and dreamed of what Tomorrow held.
Charlie wandered around for awhile as soon as the next day arrived as far as he could walk in a day, or at least till he could reach a town. He lived off the kindness of others, giving him money for the jobs he will do and food. Generally, he slept in the wild with the pokémon. He spent his spare time there as well, sometimes just outright training up his strength, but also socialized with the people of the town to meet people and find out where he was. It never looked like he got stronger, but he always felt it. He almost made friends with the pokémon he met, or tried rather, and as well as people. There are a few fights he can remember, especially a fight with a wild Houndour and it left him with a blind eye and a scar down his chest. Other than that, he had great experiences with the wild pokémon and people, continuing his thinking about how it is to be wild and how it would've been if he were to stay with his parents. Then he'd realize that being a trainer is what his calling was. He never attempted to catch the wild Pokémon - He was looking for the perfect one to be his first.
He kept travelling till he arrived at Thyme City in Kuhre Region, which he arrived at the age of thirteen, after a long journey of four years, where he had met many great people on his journey. At this point in Charlie's life he had grown practically feral looking, wearing clothes he had bought to accommodate his growing body, carrying any spare clothes and his pokédex in a bag he salvaged from a friendly man in a town, but all ragged and beaten. He still didn't mind, and talked with people some friendly people to find directions around the city. As he walked around, he saw gangs of people hanging about, knowing it was already trouble. He walked down a dark alley to try and escape the groups of people's stares and ran into a crying girl. He stared at her for a second. She looked about ten years of age. He smiled and extended his hand.
C~"Are you lost? I think I can help you."
She stopped crying and took his hand.
C~"Where are your parents?"
Girl~"T-they were waiting for me somewhere in the city. I saw them, but then I got lost. Then..."
C~"Shhh. It's fine now. We can find them."
Charlie and the girl walked around the city for three hours. In that time, he saw about every bit of the city. It was filthy in most locations, with feral pokémon hanging about certain parts. Some of the people were about as feral as the pokémon. At the end of three hours, they rested at the city park, when suddenly the girl got excited, jumped up, a ran over to her parents, who embraced her. He couldn't tell what they were saying, but the girl pointed a finger of at him while talking. All three members of the family came over. Both of the parents bowed deeply.
Father~"Thank you for finding our daughter. We owe you quite a bit, so please take this."
He held out five thousand Pokédollars just as Charlie was about to say something.
Father~"You looked like a trainer down on his luck... so maybe you can make good use of this."
C~"Thank you... Well, I best be on my way, take care, all of you."
Charlie waved and walked away, and they waved back. Promptly after, he left the city immediately to get to the wilds once more and continued forward till his feet dragged him across the way to outside of Betel Town. It was night, and he decided to sleep not far out of the town, in a tree.
He slept for a bit and was awoken to a scare by a wild Haunter glaring into his face. He rolled and slipped out of the tree and immediately ran through the nearby trees. The Haunter chased him till he ended up on the shores of the Beach a bit of distance from town. He tripped and winced at the thought of what was to happen next. All heard was a hit and a shriek of the Haunter. He opened his eyes and looked up. A Golurk stood tall over him and opened it's fist. Out fell crushed residue of what he assumed was the Haunter. It continued moving along the shore, and suddenly stopped and looked back at the town towards the Tower. Charlie stood up and followed it's gaze. He could only guess that the tower had to do with death, as would explain the abundance of Ghost Pokémon. The Golurk then turned to look out at the sea. Charlie turned to look at the sea. It had been awhile, but a flow of clear thoughts came to him, looking at the sea. It reminded of him of where he came from. It reminded him of home. Charlie started to feel teary.
Suddenly, the Golurk extended it arm down gently with the rest of it, having an open palm. Charlie stared at it for a second. The Golurk appeared to attempting to be friendly in a manner. Charlie trusted it. It had saved him once this night. He walked into it's hand and it lifted him up, on it's shoulder. Charlie say things now from a heightened view. It expanded out into endless bits of sea, with a lot of Pokémon he could not see before roaming about in the area. The Golurk slowly let him down. He stared back up at the Golurk.
C~"Thank you, friend."
The Golurk stared for a minute, then began walking away slowly. Charlie started to go after it.
C~"Wait! Will I ever see you again?"
The Golurk slowly turned around a gave as much of a nod as it could, with it's head strapped to a thick area of it's chest. Charlie gave a sigh of relief. He wanted to keep this friend.
C~"Alright then, I'll see you later."
Golurk continued it's march down the sides of the beach. Charlie went back into the forest to sleep again, this time undisturbed.
He awakened later in the evening and wandered into town, looking up at the huge tower. He went into it and slowly walked up it. There were tombstones of numerous Pokémon in any direction. When he started to reach the top floor, he was shocked by the sight. There are a lot - at least four - dead Goletts in a corner. They are a ghost type and ground, but they were distinctively dead by the light gone out of their eyes and not moving at all. Dust was covering their exterior. Charlie kind of understood why the Golurk stared up at the tower now, or at least he thought. Maybe these were friends lost to it? Charlie descended the tower, thoughts only in mind, images running amuck. He went down to the beach and sat there for awhile. He checked out the Pokétch and stared at the time. It was 8:00 PM, the sun was setting beyond the Pokétch. He sat there and kept staring out for awhile. Then he thought and pulled out his Pokédex and read the entry of Golurk. It was a protector of Humans and Pokémon (Haunter wasn't that lucky). It itself was a Ghost, but also a Ground type. He closed it slowly and continued his thoughts. Did Golurk try to protect it's friends? Or could it not? Was it a Golett just like them, but only strong enough to escape? The ideas flooded his mind and he continued staring out till after the sun set.
Golurk came roaming by again. Charlie, deep in thought, didn't even notice it. It slowly walked and stood next to him. Charlie eventually noticed it. But his thought came out.
C~"Did you try and protect them?"
The Golurk stood and stared at him for a minute, then slowly turned it's gaze to the tower. It could show no physical emotion - it was an automaton Pokémon. The feeling of the moment however, indicated it was reflecting and sad. Charlie knew the feeling of the memories of lost ones. Charlie got up, leaving his bag in the sand, and touched one of the Golurk's hands.
C~"I feel for you, Golurk. I really do."
Golurk stared back down at him. It rested one of it's hands on his head gently. The Golurk didn't trust him very much yet, being very experienced but it didn't see anything threatening about him yet.
C~"I'll try to visit here as much as I can. Maybe we can get to know each other in some way?"
The Golurk stared at Charlie silently. It slowly turned and then walked away. It was unclear whether that was a yes or a no. Charlie shrugged and went back to his little tree encampment for some rest.
Nearly everyday for years henceforth, Charlie worked at the store in the town. He got to talk with a lot of people and learned the ideals of the common people. He found it strange, but unique to embrace death naturally.
Though
, he thought,
It gives them nothing to fear.
Strange other things happened in the town now and then, but life became quite routine. After work nearly everyday he'd go to the beach to go see Golurk, even for a little bit.
Golurk was still perplexed by Charlie for the longest time. Charlie would always tell him what happened at work, or what happened before he came here. He never knew if Golurk was listening, but he liked letting it out and telling someone about everything.
After a time of three years, Charlie went to go visit Golurk after work again, as per usual. Golurk was positioned with it facing towards the sea again.
C~"Hey Golurk. What're you staying at?"
Golurk turned and looked at Charlie. It appeared to be just staring at the sea as a whole.
C~"The Sea is always interesting, yeah?"
He sat down next to where the Golurk stood. Charlie had thought something over he wanted to ask the Pokémon. He wasn't even sure it perfectly understood him.
C~"So. I'm thinking of going on a journey soon to travel across and become an actual Trainer instead of someone who dreams to be and does nothing about it. I was thinking... Would you like to come with me?"
Golurk stared down at Charlie for a minute and then walked a small distance away, looking across the beach. He thought he asked at the wrong time. He started walking toward Golurk. It turned around on him and stared at him. It held a tiny Pokéball in it's hand and slowly gave it Charlie. It looked like one he carried in his bag. Then again they all looked the same. He took it in his hand and pressed it to the Golurk.
C~"Thank you for being my friend, Golurk."
It disappeared inside the ball, and the device snapped shut. Charlie stared at the ball for a minute and then outward to the sea. He went back to his tree camp and slept for the night.
He prepared to head out for a journey. Now Charlie wanted to do something different. He wanted to see this region top to bottom and do what he could to help.
Pokemon:
Golurk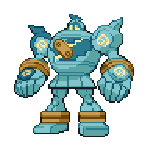 Gender: N/A
BP/EXP: 0
Held item: N/A
Special Moves: Shadow Punch
Ability: Iron Fist
Nature: Adamant
PC:
N/A
Inventory:
Glorious Sexyfine
Gem**
5 Pokéballs
5000 PD
1 Cheri Berry
2 Oran Berries
Pokédex
Pokétch
*Charlie is always referred to as just "C" in his history.
**Consumed upon approval.