Post by Luno on Jun 24, 2012 12:30:32 GMT -5
Professor Luno
[/font][/color][/size][/center]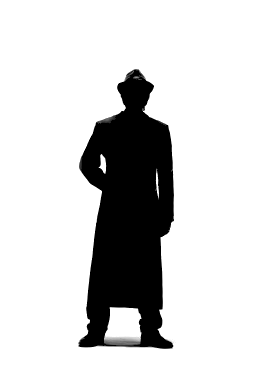 Forty-Six
Male
Head Allele Scientist and Admin
Eyes color: Bright Blue

Hair color/style: Also a bright, electric blue. Not unkempt, but not given much attention.
Physical Description:
When in his lab, Luno wears typical scientist apparel. He wears navy blue pants and a white dress shirt tucked in. He also wears white shoes (to know when he's stpped in some chemicals, of course). And, obviously, he wears a white lab coat over all of this. The bottom of the lab coat as well as the ends of the sleeves are tattered and torn from all the experience it has recieved and all the places it's been to. Though torn and worn, the coat is spotless and perfectly white.
However, Luno can't go around looking like a mad scientist in public. No, that would draw too much suspicion. To avoid this, the professor changes into a new outfit. He changes his navy blue pants for black ones as well as black shoes for white shoes. He removes his lab coat and replaces it with a black overcoat. Finally, he places a black hat over his strikingly blue hair. Though this can still be seen as supicious it is not only less obvious than his usual scientist apparel, but could also be seen as more of a gentlemanly outfit rather than a shady character. Besides, the black is better for disappearing in the night.
In general, Luno is somewhat tall for his age and gender, but in normal physical condition, if not slightly better from being rather active in his occupation. His skin is decently pale from the lack of sunlight he recieves, but he isn't ghostly white.


In the lab
On the streets
Personality:
Luno is not one to screw around or play games. He takes his work seriously and has no time for others that will mess around. The only exception to this rule would be his faithful carnivine, who has a rather odd personality and enjoys messing with others- though not Luno. While Carnivine will behave for the professor, he will be more than happy to fuck with anyone else around, though not to Luno's dismay. however, should anyone else fuck around and interfere with Luno's objectives, whatever they may be, the professor will take no issue in doing whatever he feels is necessary to remove the distraction.
This said, Luno does not hold back, nor does he care about the consequences of his actions as they negatively impact others. Luno cares little for most people and does not mind if tragedy were to strike them by his hand. However, Luno is a man of loyalty, so those working within the Allele organization have less to fear than a random civillian. This is not to say they are exempt from any wrath they may bring upon themself, if they truly deserve it.
Luno is most loyal to his pokemon. Though he treats them horribly when working on them and disturbing their genes, onc he has completed his work, he sees them more as children than mutants or clones. His work is very personal to him and the pokemon he manipulates are important to him. The only pokemon not in this category is his Carnivine, who is not a creation of Luno, but is the most important creature in his life. Rather than a child, Carnivine is a companion.
Generally, Luno is a calm and collecged man of science and shows subtle emotion. However, when things escelate and frustrations rise, Luno will crack and show his anger in very obvious ways. This is to his own disadvantage, as he knows that the best way to hndle situations is to analyze them properly- something that cannot be done in sloppy fury.
Most of Luno's anger is driven by his fears. In desperate attempts to remove whatever it is that worries him and creates whirling pains of fear in his heart, Luno will erupt into more and more desperation.

History:
Professor Luno was born to scientist Ben Luno and florist Marie Luno in Viridian City, Kanto. He was born with blond hair and bright, electric lue eyes- eyes that ran in the family. From an early age, Luno exhibited an ability to pick up on new concepts quickly as well as a strog imagination and increased creativity. However, he was only average in school, which left his scientist father somewhat disappointed, but his mother was ecstatic at his great imagination. Always thinking outside the box, Luno would often go out and create "devices" out of things he found around his home.

When Luno was just a boy, his father went off to do some research in foreign regions. When hewas due to return, Luno and his mother were first met by officials with less than exciting news. Ben had contracted a strange disease for which the doctors could find no cure. However, it was not contagious and so Ben was allowed to stay at home which pleased Marie greatly. After several weeks of bedrest, the doctors declared that Ben would be making a full recovery. Young Luno had not heard this news, as he was bust with his own project- finding a cure for his father. Spending much time in his room, gathering what supplies he could from nature and his father's study, the boy hd created a cure for this disease, which he had placed by his father's bedside.

Luno's mother soon told him the news, to which the boy had simaltaneously told his mother of his achievement. As Marie tried to understand what her son had meant, loud coghing was heard from Ben and Marie's room. The two rushed to the door, but when they opened it, Ben was found on the floor with blood and vomit puddled around his mouth and melting the carpert.

Since his father's death, Luno was much less eager to go out and play. What's worse was that his mother simply sat in her rocking chair in stillness all night and day, just staring off into space in her deep depression stimulated by the loss of her husband. After a little while, though, Luno was back out into the world, but for reasons unknown to everyone else. Luno's out-of-the-box mentality had lead him to a horrifying plot that he only saw as hope. Setting a few traps, Luno had managed to trap a wild Pikachu, which he brought home. Once in the basement, the electric mouse was placed into a small box with many wires that lead to the body of Ben as it rested upon a table. Young Luno had kept his father's body for several months as he worked hard to build a contraption that would bring his father back to life. With the use of the Pikachu's electricity, Luno hoped to reanimate the corpse. Oh, how his father would be so proud of him when he awoke and saw all the hard work Luno had done. But when the switch flipped, and the elctricity flowed, things went very, very wrong.

The machine needed too much electricity to run, which exaughsted the Pikachu's energy supply, quickly killing it. However, the machine continued to pump power out of the mouse's body for a while. As the power flowed through the wirse, it hit the body of Ben, which cnvulsed and twitched around. His eyes shot open and all the air that was left in his lungs were violently released, causing him to scream an ungodly wail. None of this was a sign of life, though, but rather the nervous system of the body being raped by Luno's work. The machine quickly malfunctioned and erupted in flames. With fear in his bright blue eyes mixing with the reflextion of his father's corpse being charred to ash, Luno waited only a moment before running out of the burning builing. Once outside, Luno looked around for his mother, but could not find her. He looked back at the house to see her through the window, still in her rocking chair. Though Luno screamed and yelled, his mother stayed put, even as the fire reached her. Within seconds, she was out of sight, covered by smoke and flames. Only a few moments longer and the entire house collapsed, leaving nothing more. Still just a boy, Luno had successfully killed both of his parents. Horrified, the boy ran.

In the next portion of his life, Luno lost his innocence and decided he had nothing left to lose. This meant a life of crime and shamelessly harming others. His life on the streets as simple street scum lead him to the befriending of his faithful Carnivine.




He was just a teenager, living on the streets. It wasn't his idea, it wasn't his plan, and it certainly wasn't what he expected. But here he was. In the dark, dank allies of Celadon, Luno sunk down into she shadows and waited for someone to walk by. It wouldn't be the first time he had done this, but it still made his heart beat faster. The waiting was always the worst part. Soon, a woman walked by with her Gowlithe trotting along beside her in the night of the city. Luno peered out and watched her get closer and closer…

Once she passed by the ally, Luno's arms shot out from the blanket of darkness and grabbed the woman by her shoulder's reeling her back into the ally, all in such swiftness, no one had noticed. The Growlithe followed the woman into the ally, ready to defend his trainer when he promptly received a sturdy kick in the ribs, sending him rolling away and into a pile of trash.

"How much money do you have?" he asked, trying to keep calm, but his voice was still slightly shaky.

"Plenty, but none of it's for you, fucker."

The trainer quickly grabbed Luno's wrists and twisted them, sending shocking pain through the teen's arms. She quickly ran to her Growlithe to retrieve him, but Luno, surging with anger, was upon her in little time. Luno slammed the woman to the ground under the weight of his body. He laid on top of her for a bit, only looking at her. It had been so long since he felt the touch of another human being in such an intimate manner. Luno softly ran the backs of his fingers down the woman's cheeks, internally struggling with the possibility that was now before him. Understanding what could soon happen, the woman shrieked loudly, which was enough to snap the Growlithe back to attention. The fiery dog leapt to his feet and opened his jaws, flames soon pouring from them and engulfing Luno just after the woman pushed him away from herself to avoid being caught in the fire. Luno was set on fire as the girl and her pokemon ran away. After much rolling around on the dirt and even throwing himself into a disgusting puddle of ally water, Luno was extinguished, both from fire and will.

His hair mostly burnt away and his skin severely tender, Luno avoided in the sunlight during the day and only hid in corners during the night. He ate what he could find from trash and used thrown out needles with some juice still in it to try to put his mind at ease. Each night only furthered his belief that there was no reason to live. There was no point. He was as low as one could get, and it was all his fault. There was no God testing him. No, he was his own god, who had manipulated and contorted his pleasant life into a life of pain and sorrow. With nowhere else to turn, the teenager went off to perform one final project.

Luno climbed a few fences and passed a few guards to make it to some chemical waste abandoned by several plants. With bottles ready, he filled each glass container with the proper ingrediants and then promptly left the area.

With the supplies in hands, Luno returned to the darkness he was used to. It was there that he began mixing the different liquids and dropping in different tablets. A noise off in the distance startled the teenager, but he soon dismissed it as nothing of importance. Besides, what did it matter what it was? Even if it were a monster that would kill him, was that not the idea? He would welcome the beast with open arms and a clean throat. But as he thought for a bit, he decided that being murdered by a monster wouldn't be his ideal death. He wanted to die the same way his father died. He wanted to end himself the same way he ended himself years ago. But this time, the end would end the pain, not begin it.

It had been a long time since he had worked on this particular mixture. But from his memories, however unreliable they may be, this was the drink. An eye for an eye, Luno would soon be at peace. As he gazed upon the ultimate end, he heard the noise again, but closer. He looked over and saw nothing. Once again dismissing it, he began to raise the glass, but then the noise came again close and as he turned to look, it was heard again from his other side, which he turned to only to hear it from his other side, which he once again turned to and found a Carnivine standing no further than seven inches away from him.

"Vine."

Not expecting such a thing to be so close, Luno sprung back in reflex. His first thought was what a Carnivine would be doing in a city. Well, actually his first thought was "fuck fuck shit fuck" but the reasoning for the grass-type- found normally in forests and marshy areas- in being in the same alley as the teenaged Luno. Clearly there was something very odd about this pokemon, and that intrigued Luno. It was this curiosity that drove Luno in life, the one thing that had kept him going so far. This insatiable need to venture into the unknown was what conducted his life. The two just looked at each other, each one clearly internally investigating the other. Luno softly reached a hand up to his charred head and touched it ever so gently, which sent bolts of pain through his body. This pain reminded him of where he was in the world and what his life meant. Through with the grass-type pokemon, Luno turned away from it and focused back on his glass. He raised it to his lips and took only one gulp before he felt his hand suddenly empty and the sound of shattering glass to his side. Eyes wide and the short-lived burning in his throat fading, Luno's entire body turned to see that the bottle was on the ground, its contents spilled out onto the ground. Luno then turned to the other side and saw the reason his death was soaking into the filth of the alley: Carnivine. The pokemon had smacked the drink from Luno's hand to send it flying and now simply stood there looking at the teenager as he did when they first met. Luno, furious, shoved the pokemon away from him, sending it into the side of a dumpster where the pokemon then bounced back a bit and hit the ground. Luno ran over to the chemical mix and threw himself on his hands and knees, trying desperately to suck out any of the drink from the disgusting rummage on the ground, but felt himself being pulled away. Literally. Vines now wrapped around his body, Luno was powerless to get out of the Wrap the Carnivine had put on him and was reeling him back in and away from the chemicals.

"Get off! Get off!"

Luno screamed and wailed and flailed the best he could, but the pokemon refused to let go. Finally, it saw that the drink was now gone and released Luno, who promptly ran over to the site of the spill and looked around. It was gone. The teen turned to the grass-type and ran at it. Luno hit the pokemon across the face with one elbow, then used the other arm to grab it by the neck and shove it to the dirt where he then proceeded to kick the shit out of it. To his surprise, the pokemon refused to fight back. It had already overpowered the boy once, why not again when he was threatening its life?

"You fucking piece of scum."

With that sentiment, Luno was off. But he would be followed.

As Luno walked, he felt worse and worse. Something in him was bothering him and he couldn't decipher if it was physical or emotional. Whatever it was, he had decided he would simply ignore it. But as he went on, something within him fought him. It told him that he was wrong. That he was worthless. That he deserved every last piece of shame and pain he got. And it told him that he was done. This feeling within went from a soft whisper to a loud yell, sending Luno staggering to stand and eventually falling to the road he walked upon. Sprawled out on the road under the beam of a street light, the feeling within the teenager scream out a list of his failures. Finally, he had had enough, both Luno and feeling, and he burned out, just as the street light agreed to do the same.

He awoke in a park under a tree, a pile of berries beside him. With a groan, the teenager leaned onto his elbows and sat up just a little. He was confused, but as he looked around and saw the Carnivine peeking out from behind some bushes, he knew what had happened. For some reason, this pokemon refused to let him die. Luno managed to rise and walk over to the fountain to splash his face with water. As he looked over into his reflection, he realized he must have been unconscious for quite some time, as his burnt blond hair had fallen out and been replaced with… bright blue hair. Whether it was a different combination or the small dosage- or even perhaps both- the chemicals he drank had confused his DNA just enough to copy and paste the code for bright blue eyes into the space for hair color.

"So…" Luno said to himself in the water, "…a reminder."

He turned to the bushes at the pokemon staring at him. What was this thing's deal? Whatever it was, Luno felt some odd connection to the Carnivine. Perhaps it felt it too and that's why it did what it did. Perhaps it was feeling the same way Luno had been and needed to save him to save itself. This pokemon cared for Luno. That was a feeling the teenager hadn't felt in so long…

Luno walked back over to the place he was laying and was met with the slithering of the Carnivine. When they were close, they looked at each ther for a moment before one of the pokemon's vines reached out to the pile of berries. Luno politely leaned over and took one berry and becan to munch on it. However, the vine remained and Luno looked most closely. Mixed in the with the pile was a poke ball. Luno reached down and grabbed the device and looked from it to the Carnivine and back. It… wanted to be his companion. Well, for the creature that saved his life several times already, Luno couldn't argue. He tapped the ball on the pokemon's head and sucked the Carnivine into the ball.

"You need no name," He said softly to the capsule,
"…Carnivine."




Many years later, Luno found himself involved in Team Rocket, where his work in science the past few years had earned him a sturdy postion as a Rocket Scientist. Through his experiementations, the professor came to realize his skills in the area of genetics. It seemed the young man had a talent for seamlessly manipulating the codes encrypted in each cell. Though it took many tries to get that good, Luno soon found the basic formats in recoding genes, having no shame in killing innocent pokemon along the way. Practice made perfection and soon Luno was a madman in the eyes of many, creating monsters and freaks.

When Team Rocket disbanded, Luno was forced to flee. He managed to make his escape to other regions where he hopped around several crime syndicates and even worked as a freelance scientist for a while before coming across Team Allele, an organization that as a perfect match for his needs, and Luno soon rose to the top.
Family:
Father - deceased
Mother - deceased

No other known family
Pokemon:
cdn.bulbagarden.net/upload/9/93/Bag_Pok%C3%A9_Ball_Sprite.png
[/img]
♂ Carnivine
Levitate ability
Experience Points: 3
TMs Known: Sword Dance
♀ 12.24
Suction Cups ability
Experience Points: 3
TMs Known: Flash Canon
To be written

-->

♂ Cerberus
Poison Point ability
Experience Points: 0
Held Item: Black Sludge
- Set
Static ability
Experience Points: 0

♂ Cassius
Flame Body ability
Experience Points: 0
♂ Pontus
Intimidate ability
Experience Points: 0
TMs Known: Dive
Held Item: Damp Rock
[/blockquote]
PC: [empty][/size]